Going deeper into illustration
Part of the process of book making will involve some element of illustration. In the last few weeks I have been researching how to simulate a lino cut effect on an ipad. I have been using a program called Procreate. This is a Photoshop and Illustrator clone but a very powerful graphics program in its own right.
This has led me, in turn, to researching the same process in the analogue world. And it is the follow on from transferring a digital print to a real world printing process that has really piqued my curiosity and taken up all my time this last month.
The result of the 'print' above is about 2 weeks' research into observational drawing, masking techniques and masking patterns. It is still only a fairly inadequate simulacrum of a lino print but I am improving.
In the last 2 months I have had to relearn to draw from life and through daily drawing I'm beginning to get back my observational skills and hand-to-eye co-ordination.
What with all the daily drawings and how to marry the digital with the analogue I'm starting to fill several notebooks. My next challenge is now how to build a small registration printing rig for 3/4 colour lino prints that will fit into an extremely small flat.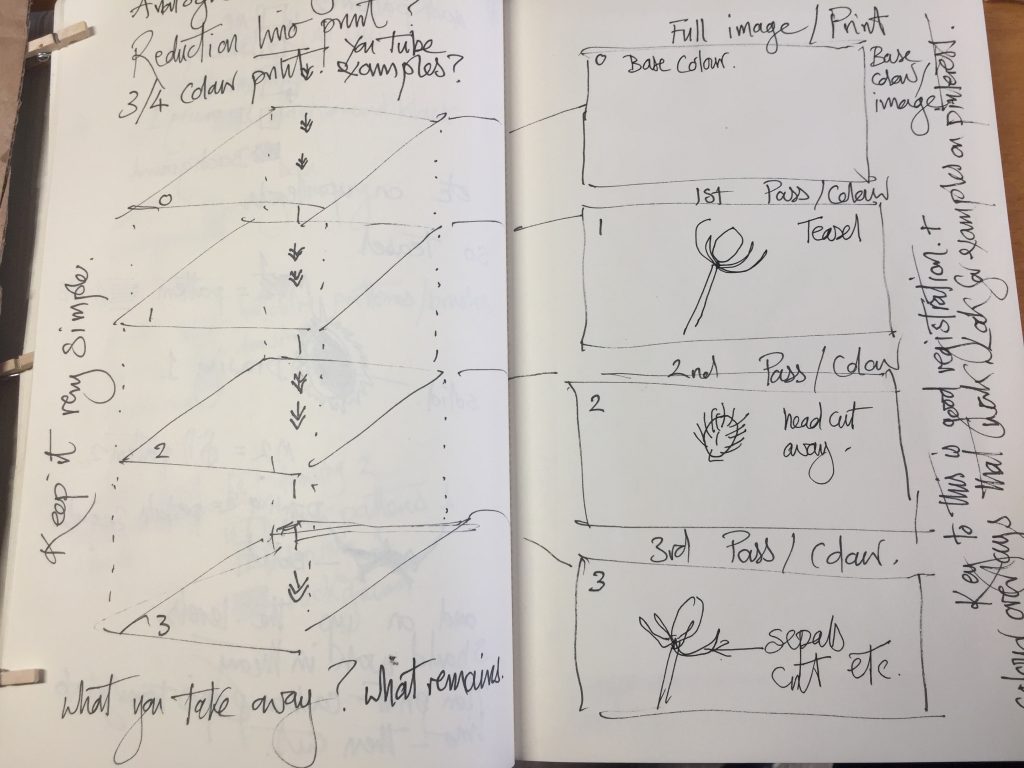 I mentioned this on Twitter and a follower, Barbara Tate came to my rescue… and saved me hours of work.
Limited Edition
The plan is to produce a limited edition of lino cuts to be issued with the publication of the book.
Each book will come with 1 lino cut print of a random number from 0 – 10. These will be produced using the Procreate program and then be transferred to lino blocks, then printed off by hand. A limited edition will be signed off and inserted into a selected number of books.
As an art project this is a tradeoff. I toyed with the idea of printing, stitching and bookbinding a very small edition of the book myself – this seems a far less expensive(!) and saner(?) alternative.
Some success
This week I was the given the good news that one of the poems I entered for the National Poetry Competition made the long list. Apparently there were 18,000 + entries (the largest ever) and 150 were chosen for the long list.
There wasn't a prize but a mention on the Poetry Society's website – I'll take that. It was my most recently written poem so I feel a little vindicated embarking on this enterprise again after 40 years…